With every new month comes a stack of new books being published. I spend a good few hours trawling through Amazon and Goodreads and I'm going to share with you what I a most looking forward to.
MELT
by Selene Castrovilla
(e book)
Based on true events, MELT is both a chilling tale of abuse, and a timeless romance. MELT will hit you like a punch in the face, and also seep through the cracks in your soul.
MELT, though not a retelling, is a brutal love story set against the backdrop of The Wizard of Oz. When sixteen year old Dorothy moves to the small town of Highland Park, she meets, and falls for Joey - a "bad boy" who tell no one about the catastrophic domestic violence he witnesses at home. Can these two lovers survive peer pressure, Joey's reputation, and his alcoholism? Joey's words are scattered on the page - reflecting his broken state. Dororthy is the voice of reason - until something so shattering happens that she, too, may lose her grip. Can their love endure, or will it melt away?
I am a fan a of the Wizard of Oz and all the Oz books. Although the synopsis doesn't give a lot of detail I am excited to sink my teeth in to this.
Never
by Shay Lynam
Wynn Harper spends her days trying to blend into the background. This isn't very easy, especially being the great granddaughter of the late Wendy Darling. Wynn used to love Great Gran's stories about her adventures in Neverland with Peter Pan and his lost boys, but that's all they were. Just stories, right? That's what Wynn keeps telling herself.
But then she meets Peter, the beautiful boy with a voice to match, and when he whisks her off to Neverland, Wynn knows this is no fairy tale. The lost boys are a group of rebellious ex-pirates, young Hook has a soft side, and Peter Pan isn't as innocent as you might think.
In case you can't tell I like it when author's put a spin on childhood favourites. This one being a Peter Pan retelling makes me super excited. I've seen great reviews of this on Goodreads and I have this preordered (can't wait for it to pop up on my kindle).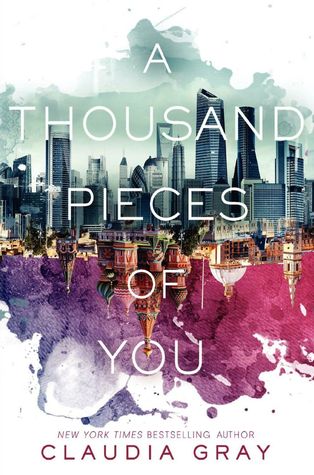 A Thousand Pieces of You
by Claudia Gray
(paperback / e book)
Marguerite Caine's physicist parents are known for their radical scientific achievements. Their most astonishing invention: the Firebird, which allows users to jump into parallel universes, some vastly altered from our own. But when Marguerite's father is murdered, the killer—her parent's handsome and enigmatic assistant Paul—escapes into another dimension before the law can touch him.
Marguerite can't let the man who destroyed her family go free, and she races after Paul through different universes, where their lives entangle in increasingly familiar ways. With each encounter she begins to question Paul's guilt—and her own heart. Soon she discovers the truth behind her father's death is more sinister than she ever could have imagined.
I read the Evernight series by Claudia Gray a few years ago and become a fan of her writing style and the way she creates characters. This story being set across parallel universes really interests me. It has been likened to Cloud Atlas which I haven't read, but I might check it out if I get on well with A Thousand Pieces of You.
Strange Girls and Ordinary Women
by Morgan McCarthy
They say you know instinctively who to trust.
Alice is normal; she'd never do anything rash. But when she sees her husband one day with a younger girl, she knows at once that he's having an affair. And it must be stopped.
Vic loves her friend Michael, more than he knows. He wants happiness, and thinks he's found it with the magnetic Estella. But Vic feels sure she can't be trusted - and she needs to make Michael see that too.
They don't know Kaya; her life is tougher than they can imagine. But Kaya's a survivor, and she's determined to find a way out of her miserable world.
Three women, three lives that come crashing together in this dark, lyrical and utterly enthralling story of warped perceptions, female intuition and 'the other woman'.
This sounds very interesting. It could be a great piece of literary fiction or chick lit in a grown-up cover. Either way I expect great things from this novel. It's already available on kindle if you don't think you can wait for the paperback.
Reign of the Vampires
by Rebekah B. Ganiere
She wants security. He wants freedom. Together their love could destroy the world.
Ten years after the outbreak of the V2000 virus turns the majority of humans into a mutated Vampire sub-species, the last remaining true humans are the world's hottest commodity. In this new world, it's The Society that rules.
Being the only female Vampire Lord in America isn't easy. Being thrust into the role of CEO is even harder. Danika Chekov refuses to let her father's legacy die. She's resolved to keep everything under her tight control. But after she's almost killed, she's forced to purchase a human guardian.
Mason is human, or so the Vampires think. He's determined to protect his secret, but Lord Danika buys him before he can make his escape. Their passion for each other threatens everything they want most. And when Mason's true nature is exposed, the results could be devastating.
Of course we all know I soft spot for vampires, so this slice of romantic suspense was right up my street. This is the first book in The Society trilogy, and whilst I don't expect anything ground breaking from this book I'm sure it will be a great source of escapism.
There were many other fantastic offerings this month, and I will talk about them in due course, but these are my main picks. What's on shopping list this month?
Love and Bugs
xoxo