Good Afternoon My Lovelies!
I hope you all had a great week. This week I went back to work after a week and a bit of holiday and it's amazing how quickly you get used to those late night and waking up a 8am (seriously that's quite late for me). But I think I'm back into my routine.
Weekly Vlog Vol 2
I'm starting to enjoy this vlogging lark. I'm still a bit wary of look like a crazy person, but it's nice to be able to natter away.
I was able to curb my shopping cravings this week. I had a trial for my first official client and I needed base products. I quite liked shopping with someone else in mind and it took the edge off of wanting things. I really should unsubscribe to the Makeup Revolution news letter. Over the last few months they've launched some amazing products and I want them all. If I can hold off until my Birthday I'll treat myself to a big package from them. But until then I have a great many products in need of some love
As I said in my
WMB
I have been feeling rather uninspired lately. And not just with makeup, but with fashion too. So I picked up a few of my old favourite titles and boy have I missed them. I'll need to have a chat about me and magazines soon.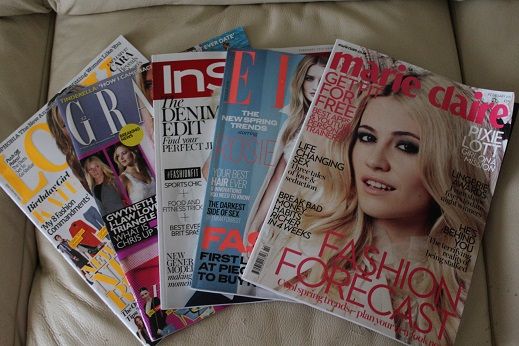 But whilst we are on the topic of inspiration I wanted to update you on my writing.
I'll admit I haven't been very active on the writing front for the last few months, but since getting my new computer things have only gotten better. With everything in one place I've become more focused and with generally writing more (be it blogging or filling out info boxes) the words are flowing easier. While I'm still miles away from completing anything I'm enjoying this new surge in productivity.
Anyway, I aught to go start dinner. We're having Roast Chicken
Love and Bugs
xoxo